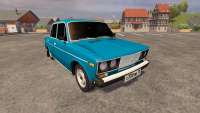 Another hint of the history of the Soviet automobile industry for Farming Simulator 2013. When the considered machine superior, incredibly popular in Soviet times and produced until 2005, still travels around the world magnificent rear wheel drive car VAZ 2106.
"Six" - a symbol of prestige and wealth of the Soviet people.
In this section you can download various modifications VAZ 2106 for Farming Simulator 2013. We checked all mods buggy and simplified installation made especially for you. Good game, friend!