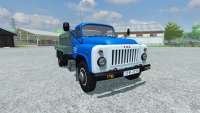 This topic presents fashion on the technique of brand GAS for Farming Simulator 2013. This domestic brand has been successful at all times and in many branches of engineering.
GAS produces vans, trucks for the village and the army recently launched a line of cars headed by the legendary Volga. The technique of GAS demand for its practicality, endurance and constantly updated range. Note that brand GAS in recent years has greatly expanded its influence, and now the production is a success even in Europe.
To download model GAS for Farming Simulator 2013 with our server should register. However, the available free download without registration.