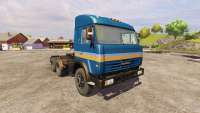 Despite the fact that Farming Simulator 2013 is already quite a variety of techniques. Still want to bring into the game a little domestic appliances. Certainly outstanding representatives of the technique is brand KAMAZ.
KamAZ is a Russian company, a manufacturer of diesel trucks, buses, tractors, combine harvesters. As you know, all this equipment is very necessary in Farming Simulator 2013 and will increase the yield on your fields.
We have selected the best models of KAMAZ vehicles, which you can download without registering directly with our customers. Installation is intuitive and requires no special skills.