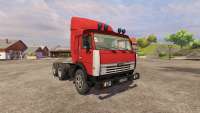 This topic presents a large collection of mods, known for the TV series the Drivers, universal tractor KAMAZ 54115 for Farming Simulator 2013.
This model was produced from 2000 to 2011. Powerful engine with acceleration up to 240l.S., standards Euro-2, 35 liters of diesel per 100 km, the ability to tow any trailers from side to tanks and successfully used for carrying of different loads in a roadtrain.
Choose your favorite model KAMAZ 54115 for Farming Simulator 2013 and free download on our website. We have checked all the files on bugs and simplified installation to a minimum.