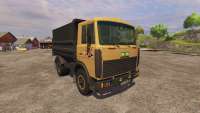 To bring you the best fashion for the technique of the largest enterprises of Belarus, producing trucks, buses, trolleybuses and towed vehicles.
MAZ is known all over the CIS, however, their technique is used in many parts of the world, such as the Sahara desert, to the Extreme North, Latin America, Asia, middle East and so on
The plant produces machines with various types of actuators: 4x2, 4x4, 6x4, 6x6, more than fifty buses and trolleybuses, about a hundred versions of trailers, as well as 6 generations of heavy trucks.
Raznoobrazii its fleet excellent technique under the brand MAZ. Specially for you we have placed fashion MAZ for Farming Simulator 2013 for free on our server. Good game, friend.