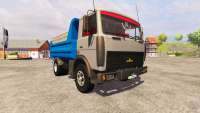 Present you with a selection of mods for one of the most durable trucks MAZ 5551 for Farming Simulator 2013. This car like all the Mazes has one very important advantage - endurance. It is the endurance of this car impresses the most.
MAZ 5551 - truck production of which was launched back in 1985, however, and today this model is very popular for its flexibility, ease of maintenance, economy and heated cabin. This model is actively used in construction and on farms, and for its vitality and heating system MAZ quietly works in the coldest parts of the world.
Tenacious and warm truck MAZ 5551 for Farming Simulator 2013 is available for download without registration on our website. Farewell, friend.