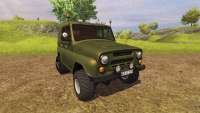 Present you with a selection of vehicles under the brand UAZ for Farming Simulator 2013.
UAZ are proud of the Ulyanovsk automobile plant. The first samples were developed in the 50's, and quickly began to conquer the market, after 10 years UAZ started to export their vehicles in 22 countries, and on 18 February 1974 came a car - million UAZ-452 and developed floating car "Jaguar", which is still exclusive. Well, in 2005, the world saw a UAZ Patriot, he is one of the most technologically advanced all-terrain vehicles in the world.
Conclusion: automobiles UAZ are a great SUV in the world and will serve you on the farm. Choose UAZ for Farming Simulator 2013 without registration directly from our server.