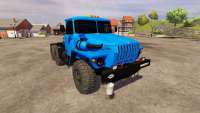 In this topic we have added fashion for one of the most reliable and unpretentious trucks in the world Ural for Farming Simulator 2013. Cars Ural machinery for various industries, agriculture, law enforcement structures.
AWD cars Ural was created for the Armed Forces, so the machine was developed for active and convenient use in combat, because of this, the Urals, has received a number of distinctive properties: increased unique cross, adapted to bezgarazhnoe storage, high durability, robust steel construction, easy maintenance and many other useful properties.
Car brand Ural will be a great helper on any farm, download fashion Urals for Farming Simulator directly from our server. We have checked all the files on bugs and simplified installation for your convenience.