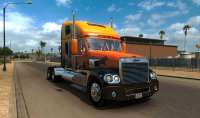 American Truck Simulator, as the name implies, is a game is about trucks. It is trucks that the developers have invested most time and effort thinking through every detail, over and over again perfecting every tiny detail, and all this to make the players really have the feeling that they control a multiton large peace of machinery with a complex and strict management system, not some budget Ford. Of course most of the mods for American Truck Simulator is new trucks, which was not in the game. This can be a completely different truck brands, from world-renowned brands to local manufacturers, which knows by only three and a half men. Or even not trucks, but small vans with a payload capacity of slightly more than a ton or even small cars.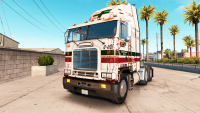 In this section of our website you can download the trucks for American Truck Simulator, including Russian ATS trucks . We are always looking to add to our website only the newest and most high-quality ATS trucks - creations of the best modders from all over the world. If you are tired of your already sophisticated
Peterbuilt
or
Kenworth
, or you just want to upgrade your fleet you can easily download trucks for American Truck Simulator on your taste. Whether it is the European compact cabover tractors with steel cab from
Volvo
,
Scania
or
MAN
; or powerful Soviet and Russian Ural and KAMAZ trucks, or classic American trucks with the conventional cab layout - all this you can easily find here.
Download trucks ATS, as well as download Russian truck ATS with us is completely free and just in a click. All of our mods are thoroughly checked for viruses, and are supplied with detailed descriptions and screenshots, and all this to make it easier for you to choose from a huge selection of trucks for American Truck Simulator.