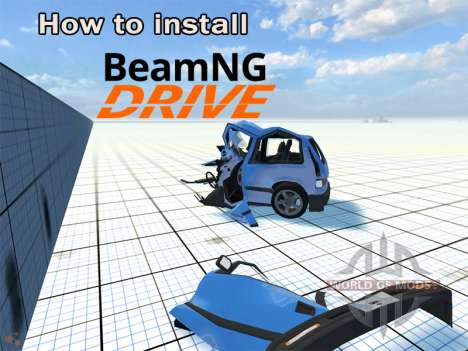 Only one view a video presentation causes violent desire to start playing BeamNG Drive and independently verify realistic results of crash-tests. The game is very simple, does not require any professional skills of driving and installed in minutes.
Despite the low weight of the installation files BeamNG Drive equal to 300 MB, gaming world quite large. We mean not only a huge selection of spacious areas, but professionally implemented graphical effects. All events as close to the real consequences of crash-tests.
To diversify extreme environment BeamNG Drive has numerous car mods and unique locations. To independently verify all the benefits of the game just install the driving and to start development of the virtual world. Consider the step by step instructions on installing the game.
Phased installation BeamNG Drive
To install the game on your computer, simply follow the following steps:
1. Download the installation file of the game. The download will take some time, which will depend on the speed Internet connection.
2. To extract the contents of a downloaded archive. After uncompressing, you must find the file named "BeamNG.drive.x86.exe" or "BeamNGSandbox.x86.exe" depending on the version. To start the game it is enough to click it twice.
In rare cases, the game may not start. It depends on the software of the computer. If you receive an error message, it is recommended to experiment with compatibility settings. To do this, click the right mouse button on the executable and select "properties". In the next window, open the "compatibility" tab and try to change settings. Practice shows that such manipulations ultimately successful.
After starting the game and complete exploration of the game world can be a desire to diversify. Specially for this purpose on our site contains mods of
maps
,
cars
and
planes
for BeamNG Drive, which are regularly updated. If you have any problems, you can find
instructions on how to install mods
or
use of function keys
to control the game.