The interior of the truck in Euro Truck Simulator 2 is a very important aspect of the game for all who plays with first-person view, meaning for most of the players. In the first-person view you can see not only the road, but also the internal environment of the truck, which every driver sees in real life. And it is almost impossible not to pay attention to the interior during long trips, to every smallest detail. In this aspect, SCS Software has done a great job - each model of the truck has unique interior that is carefully and thoroughly recreated, with smallest details. The elaboration of each detail is one of the reasons why this game is adored by millions of fans.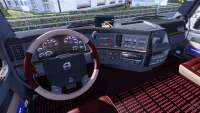 But can interior of your truck bore you? Of course, it will be in front of your eyes for hours. Mods can help to fix this. ETS 2 interior mods both update the interior and add more details or fix developer shortcoming. You can download interiors for Euro Truck Simulator 2 on our website, each of which will bring something new and unique in your game. New colours, new GPS-navigators, the new emplacement of the individual elements can be added with modifications.
In this section you can download various interior mods for Euro Truck Simulator 2. Mod database is regularly updated, so stay tuned for updates on our website.