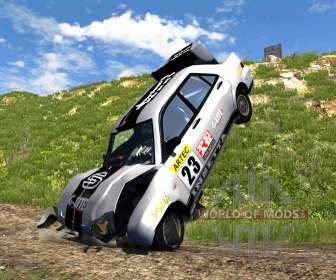 BeamNG Drive is a unique crash simulator where each gamer can enjoy the real cars deformation after bumps with trees, walls or another road users. This effect is achieved because of implementation the disruption patterns inside gameplay, fixed by crash test engineers.
Although the game doesn't have any target, a huge amount of users all over the world like to spend the time driving their favorite car in various epic locations. According to the gamer's reviews, BeamNG Drive is blurring the boundaries between reality and illusion. The developers of this simulation game suggest following features and advantages for the users:
Huge varieties of vehicles, downloaded in the gameplay with a chance of changing any model during real time playing.
Possibility of switching different locations and creation of user's own maps.
Realistic crash simulation because of exact copy the soft body physics in the gameplay.
Wide range of interesting constantly updated game mods, allowing users to reach as much additional functions as possible.
It is necessary also mention, that game has an amazing realistic graphics, beautiful landscapes and high level of each texture detail. All these advantages allow the virtual driver completely immersed in a gameplay.
Suggested BeamNG Drive mods
A lot of advanced PC users offer their own mods for this simulator, and share it with the people, using different thematic platforms. A lot of mods are constantly upgraded, and gamers can seek out new opportunities of the gameplay. These modes include following features:
Traditionally, for all simulation games, the most popular mod is the emergence of different new cars. Users can choose the best Mercedes, Audi, Toyota, Bugatti or exotic old car and enjoy the crash simulation of each vehicle.
Game developers also offer different spare parts packages and tune details for the most of cars in the gameplay.
High skilled players can download new maps with different driving location and discover it.
Our platform suggests each user a huge variety of different BeamNG Drive game's mods for your convenience and enjoying.
The most popular categories of BeamNG Drive:
Cars
,
Maps
,
Planes
,
Mods
,
Motorcycles