Red Dead Redemption 2 is the game-style shooter with an open world cowboys and horses, revolvers and a creak of wooden wheels - in a word a real Western, which was released by the well known company Rockstar Games. You will play a character named Arthur Morgan - he's a cowboy of the Wild West and it is expected an incredible adventure along the way. The game is replete with magnificent scenery and beautiful graphics, but the most interesting part is the gameplay and story, as well as detailed open world, which is so interesting to learn!
In the game there are new features that were absent in the first part. Players can now chat with other characters, making the gameplay much more interactive. You can choose different dialogues: from friendly to threatening. Innovation has touched and caring for equipment. Your clothes may get dirty, and the weapon that was dirty, now can get stuck (and wet will misfire). You will need to monitor the equipment and time to care: to clean and lubricate, and to avoid the ingress of water.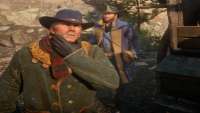 In the RDR 2 has a rating system, it depends entirely on the character's actions. Scale affects the relationship of the main character with other characters. The game has the opportunity to earn rewards for the activities.
The system requirements of RDR 2
Before going to PC game developers published on the website the official website of Rockstar Games system requirements to play RDR 2 on PC!
Red Dead Redemption 2 are available to users on PS4 and Xbox One. As of 5 November 2019, users will be able to play it on the PC.