Beautiful forests, spacious farmland, hungry animals, tons of manure and hectares of fallow land - that's why life is usually a farmer in Farming Simulator 2015. Players have already managed to appreciate the intersection of game events with real life and even to establish their own farm in the vast virtual land.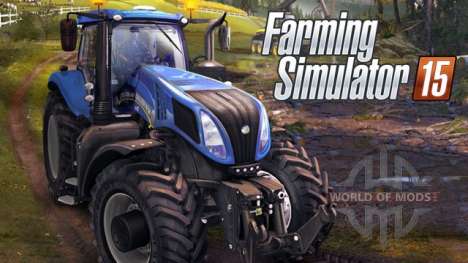 Farming Simulator 2015 is a continuation of the series of games from Giants Software, which has already managed to make a lot of noise among connoisseurs of the genre. Let us consider what has changed in the game compared to previous versions.
The game allows you to play alone, with friends or bots. Most users selects live friends, because with them more fun. Moreover, the maximum number of participants increased to 15 people.
Developers have always strived to focus on the realism of the events that led to the emergence of a modified game engine. He was allowed to add some modern special effects, to increase the quality of texture mapping and to approximate the physics of the game to perfection in its class.
Old tractors and poor diversity of crops and animals in the past. On the farm there were modern technique, which can only dream of many real agricultural associations. The player will have to be smart in order to keep track of all production processes and not leave hungry animals, among which were new species.
Available size of the cards was significantly increased, partly allowed the introduction of a new activity - procurement log cabins. To stock up on them using basic techniques or to download the appropriate mod.
Now the player can observe the interaction of different objects among themselves, which was not in previous versions of the game. For example, when a train is approaching to move down the barrier and will have to wait. The leaves on the trees and other small objects respond to atmospheric agents (rain, wind, etc).
On our site you'll find dozens of
mods
gameplay and physics of the game, which further extend the capabilities of "farmers".