Long before the release of American Truck Simulator it was pretty clear that it would repeat the experience of its predecessor, Euro Truck Simulator 2, with extensive support for a variety of custom modifications. How could it be otherwise, in the game, the existence of which is due solely to the efforts of a huge mod community that have made SCS Software is not the last company in the global gaming industry? Technical similarity of these two games even more simplifies the task of the modders around the world - they don't have to reinvent ways to effectively and quickly create high-quality mods for American Truck Simulator. All the experience gained over the years of creating modifications for ETS 2 will be useful in ATS as well.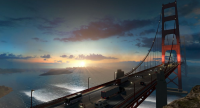 On this page you'll find a variety of mods for American Truck Simulator. From changes in the weather and the cycle of day and night in the game, to the improvements of artificial intelligence in the game to make the game even more realistic than before. Here you can find even entire new regions and hundreds of kilometers of new roads to explore. Diversity, which ATS mods is ready to provide, in no way inferior to the mods for ETS 2 since all these modifications makes by the same people and in the same format. If you are tired of all the standard trucks and States, then you can easily and free download new mods for American Truck Simulator from our website. Don't hesitate, download the ATS mods can be done in literally one click - quickly and easily!
If you are interested in the replenishment of the fleet of American Truck Simulator, we recommend you proceed in the
"Trucks and other vehicles"
on our website. There you will find all most selected and thoroughly sorted trucks for ATS of all brands and models. You'll be able to download all these trucks completely for free.