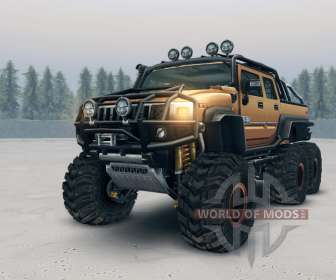 this section presents the machine to Spin Tires, not in the basic game configuration. Players can freely and free download of fashion with our customers.
The variety of mods includes a powerful trucks and cars of foreign manufacture -
HUMMER
,
AUDI
,
BMW
. Separate attention are the vehicles of Russian production -
KrAZ
,
Ural
,
KAMAZ
. They are downloaded for free from our project and are installed for 1-2 minutes.
For players convenience, foreign and Russian machines for Spin Tires are divided into several categories. These include sections with trucks, special vehicles, SUVs, cars and even military machines. Also the possibility of choice of cars by make (
Nissan
,
VAZ
,
Infiniti
and so on).
Every mod Spin Tires has detailed graphical and textual description, including an overview appearance and technical peculiarities of transport. After selecting one or multiple mods download available in two ways. Authorized players can download fashion Spin Tires directly with our customers, not registered users from a file-sharing resource in free mode.