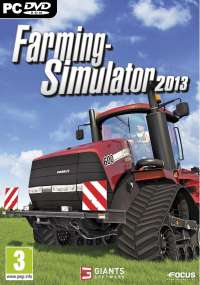 Game simulator Farming Simulator 2013 was a unique continuation of the first part, which was released in 2011. Any interested player could become a real farmer, and hooked the user. Many active gamers faced one key dilemma: "Where to buy Farming Simulator 2013?".
Of course, the game itself can be bought in any store video gaming, which is located in your city. Here you will be prompted to license the game, which is subject to a guarantee in the form of a cheque for payment. That is, you risk nothing and the game is guaranteed to be downloaded to your PC. But there is a likelihood that interest you drive on sale will not appear. What to do then?
Everything you need can be found online license and distribution of our game is no exception. There are many online stores where sellers are implemented license disks, digital copies of the game or the numeric keys.
In this article we do not even consider the option of free downloading pirated copies of the game. Why? Yes, because a licensed version differs in a number of key advantages:
Not broken on your side of the law
You have the option of playing online
No viruses and bugs
Financial support for game developer
Buy the game in the online store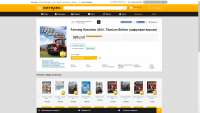 Today there are many large and small commercial sites that are actively engaged in the sales of video games. The most famous player in this niche is the project "1c-interes.ru". Here you can buy the game on disk or download a digital copy.
To make purchases in this shop quite safe. By the way, here is an interesting loyalty system, as well as individual bonuses and discounts.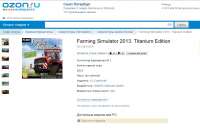 To buy the CD with the necessary game there is an option on the project "Ozon.ru". If you want you can find and buy Farming Simulator 2013 Titanium Edition on disk. But, as with any store, it can be sold out all the license disks, and digital copy is not offered to the buyer.
Activation key of the game instead of the disk in the box
There are some projects that offer to buy the key for your favorite game. Using this key you will see all licensed features of the original game. One such project is the website "plati.ru".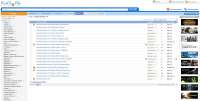 This is one unique platform, where there are many sellers. Accordingly, there is proposed a large number of unique keys for different games. It is enough to specify the product code or name to find what we are looking for.
This access key can be purchased very cheaply in some cases about 100 rubles. But such a deal may not always be reliable. It is necessary to pre-read the comments and study the rating of the seller. Buying digital cd key at your own risk, you receive a digital key from the game Farming Simulator 2013. After payment you will be able to find the key in the mailbox, which was specified during the purchase.
How to activate farming simulator 2013?
So, were you able to buy farming simulator 2013 license key, which in due time were you in the mail. Now you need to run the following phased series of simple steps:
To download to your computer free distribution of Steam and to register, not to buy an account
Then running the Steam client key must be entered in the section "Add a game to activate through Steam"
Upon completion of activation, the game will appear in the General list with other games and you can download it on your computer
Official purchases through Steam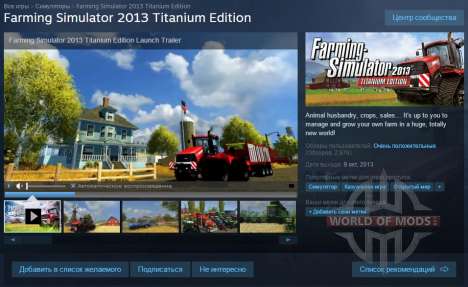 We strongly recommend you to buy games directly through the official Steam client. Here you are guaranteed to be provided with the licensed version of the game Farming Simulator 2013. When buying distribution of the game Farming Simulator 2013 Steam gives its user the official key that will be used to set the image of the game.
You get to game Farming (he Landwirtschafts) Simulator 2013 key completely unique, which will belong exclusively to you and may not be used by third party. Steam regularly organizes promotions and discounts, which means the purchase of this system will be even more profitable.