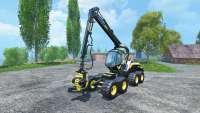 Since ancient times the main tools woodcutter was an axe and a saw. As the society evolved and tools lumberjacks, appeared chainsaws, saws, and later special machines and machines for doing logging.
We present you a section in which we collected a variety of equipment for harvesting under the brand PONSSE for Farming Simulator 2015.
The company PONSSE is the only true Finnish provider of logging equipment world level. All major parts are created to order PONSSE forestry equipment designed and manufactured in its own factories in Finland with a guarantee of the highest quality.
Download your favorite model PONSSE for Farming Simulator 2015 on our website absolutely free of charge. We have checked all the files on bugs and simplify your installation process to a minimum. Good game.