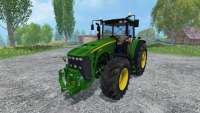 This page presents all available modifications of the farm tractor John Deere Farming Simulator 2015. The technique of the John Deere brand appeared in 1837, and was a long and hard road to world leadership in the development of agricultural machinery.
Today, the company produces 5 series (Series 6B, 6D: l.S., 6M: 150 HP, 7030: 190-220 HP, 8R: 270 - 320 HP) universal tractors that allow you to choose a car in accordance with your needs. As well as a line of four-wheel tractors John Deere 9000 series, since the release of which in 1996. they continue to remain the most popular in its class.
Download fashion on John Deere tractor for Farming Simulator 2013 on our site totally free and without registration. Good game, friend.