Mafia: The City of Lost Heaven is a legendary game that came out all the way back in 2002 but is still popular among gamers.
The developers managed to capture the very essence of the early 20th century and created a whole city that resembles the Chicago of that time period. Millions of players all over the world instantly fell in love with the game, which then resulted in the game becoming a series.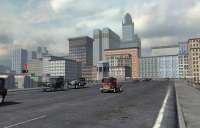 Most of the gameplay consists of storyline missions. You'll be able to fully immerse yourself in the criminal life of a gangster that started his career as a taxi driver. Brawls, chases, gunfights – these are the things that you'll have to do in the game in order to gain the respect of your family. However, such stories never end on a good note and you'll have to witness the protagonist get more and more disappointed with himself and his life choices as he's telling his story to a detective.
You can find useful tips and tutorials for Mafia: The City of Lost Heaven on this page. This will help you complete some of the harder missions in the game. This FAQ can be of use to both the newcomers and the experienced players.