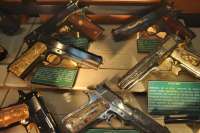 You can find many weapon mods for Mafia: The City of Lost Heaven on our website. This page has all the best mods for new gun models and textures. Weapons in Mafia are a crucial tool for completing most of the missions. The player can have up to 5 handguns and 1 large weapon simultaneously. This does not include a weapon that you're currently using or that you have in the back seat of your car. If you exceed this limit, the protagonist will simply throw new guns away.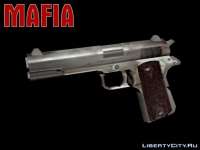 There are also melee weapons to be found, such as baseball bat, knife, crowbar, brass knuckles, wooden plank, steel bar, bucket etc. Thrown weapons include Molotov cocktails and grenades.
And, of course, the fire guns: S&W revolvers, Colt revolver and Colt 1911, sawed- off shotgun, Thompson 1928, pump-action shotgun and Mosin sniper rifle.
All mods can be downloaded from our website for free.