On this page you can learn about cars in Mafia 2 Vehicles have definitely become a lot more realistic this time around: they're easily damaged and can get dirty if you drive them for a while. However, controls were changed to be more arcadey. You can also repair and modify cars and store in your garage.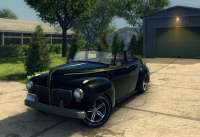 Try to maintain your vehicle as if you damage it too much, it just won't start. Here you can find mods for cars in Mafia 2 You can use the website's search engine and sort the results by your preferences.
All mods can be downloaded from our website for free. The list of mods is constantly being updated, so stay tuned!