On this page, you can find weapon mods for Mafia 2 You can find the right mod by using the search engine on our website, which also allows you to sort the results by your preferences.
All mods come with descriptions, screenshots and installers.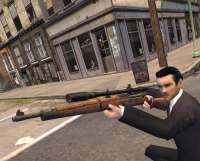 You can add new weapons to the game to kill your enemies and complete missions efficiently. The original game doesn't have a large choice of weapons, but these mods will definitely crowd up your arsenal.
You can download any mod from our website for free. Enjoy!