Like almost all modern games, Farming Simulator 2013 there are achievements. It is a virtual award that's given to the player for committing certain actions in the game. Among them, for example, there is such achievements as: to pass over thousands of miles, to sow or to harvest more than 100 acres, or even such obvious "achievement" how to go into minus on the account on the first day of the game. However, most players are interested in one, or rather three achievements, under the title: "Lucky Hand", "Enough for 12.5 Horses" and "The Collector". They all require only one thing - to collect Farming Simulator 2013 horseshoes scattered around the game map. 25, 50 and 100 horseshoes, respectively. By the way, interesting point: these achievements exist in versions of games for PC and Xbox, but not PlayStation.
We decided to write this article to tell you the whereabouts of all 100 horseshoes, which are needed to achieve the coveted "Collector".
And so, where to find horseshoes in
Farming Simulator 2013
? They are located throughout the game map Hagenstad, in different places, sometimes lying by the road, sometimes it is somewhere in the darkest corner, well hidden by hay. Farming Simulator horseshoes, it is a real challenge for any fan of game achievements, which is always a lot in any gaming community. But don't worry, our Farming Simulator 2013 horseshoes map will allow you to collect each of the horseshoes without any problems and as quickly as possible.
Horseshoes Map Farming Simulator 2013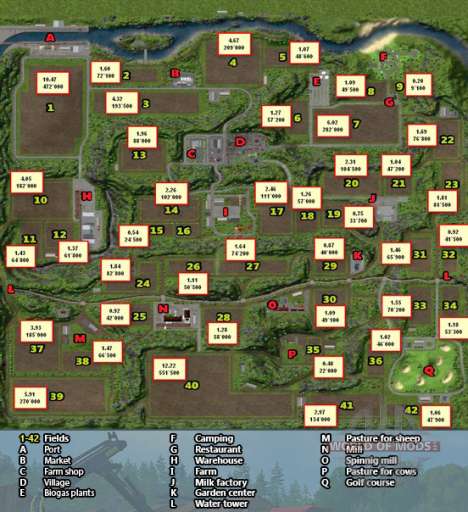 Now, more details about the location of each horseshoe. In the screenshots below you will find the exact location of the horseshoes, so there should be no problem finding.