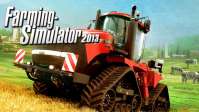 Farming Simulator 2013 is a realistic simulator farming game that supports single player and multiplayer. The player acts as the owner of the farm that defies dull weekdays. Waiting for him countless herds not trimmed sheep, hectares not well-groomed land, lots of embarrassing and funny situations.
The game from Giants Software released in the autumn 2012. Today Farming Simulator 2013 is available on most modern gaming platforms OS X, Windows, PS3, Xbox 360. In the gameplay involved with their families, are formed teams of friends. To the development of copyright modifications connects more and more developers. Most of the players notices remarkable resemblance of this farming simulator with the real situation in agricultural land.
Intuitive gameplay and fun gameplay makes Farming Simulator 2013 actual adult players and growing "farmers". Fascinating pastime is not finished, because the gameplay is designed to develop logical thinking, which has a beneficial effect on the development of personality.
The game "Farming Simulator 2013" there is only one defect - limited set of cards and equipment. It does not upset the players, after all, are available for downloading hundreds of
mods
,
new harvesters
,
tractors
,
trailers
and
maps
. They allow you to significantly diversify the gaming space, adjusting it to their needs.