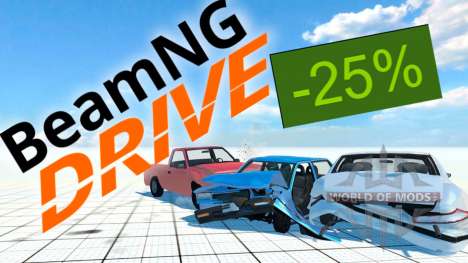 Steam summer sale is in full swing and this time thee is a discount on the best car simulator - BeamNG Drive
If you've always dreamed about the most realistic in the modern games industry car simulator, which implements the full simulation of damage, engine performance, aerodynamics and more, the only choice will undoubtedly be BeamNG Drive. This game is one of a kind, and its developers stand out from their colleagues for that they regularly improve and upgrade their game, making it better and better every month. Indeed it is. To be certain you can compare BeamNG Drive half a year ago and BeamNG Drive today. It's actually a different games!
If you consider yourself as a fan of car games, you just have to buy BeamNG Drive, especially now, when there is a 25% discount available on Steam on this wonderful game! You can purchase it for only $18.74. Hurry up, because the offer will be avaliable untill a July 4. Visit
BeamNG Drive page on Steam
and buy this masterpiece from BeamNG.
After becoming the proud owner of BeamNG Drive, be sure to check out our section on
cars for BeamNG Drive
where you can download a huge amount of cool vehicles for free and without registration.