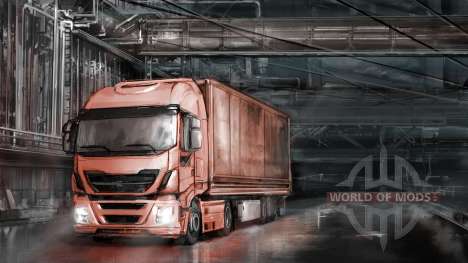 It wouldn't be true if we call Euro Truck Simulator 2 a game for which artists draw a lot of quality fan-art. The specifics of the genre and the game world is not very conducive to creativity. But actually there is a bit of ETS 2 fan art and in this article we will tell you more about it!
We've searched throughout the Internet to find a suitable selection of Euro Truck Simulator 2 fan art, looking even in the darkest and most distant corners of it. Fortunately, our Research Department knows its job, so meet the first of today's art: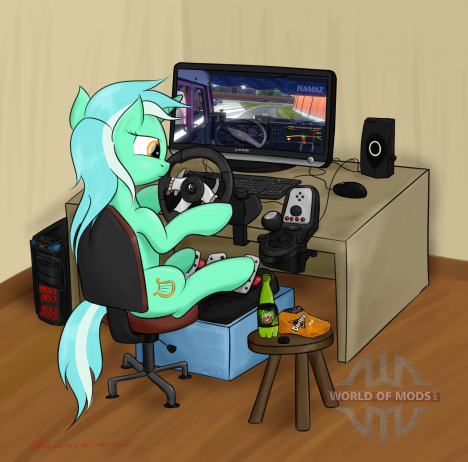 To please all the fans of "My Little Pony: Friendship is magic" one of the ETS 2 players painted this masterpiece. It turns out that even Equestria has its lovers to drive a truck in Euro Truck Simulator 2.
Now seriously. A certain artist, and apparently a fan of Euro Truck Simulator 2 (or just European trucks) drew several stunningly beautiful and stylish arts depicting powerful tracks in their natural habitat. The way these arts were paint is especially eye catchy, as if this is an oil on canvas, although it is obvious that the work was done on a computer using a tablet. There are five arts. Let's talk a little more about each.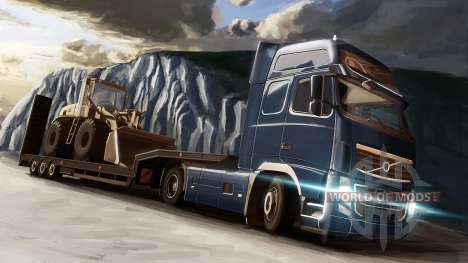 Here you can see a Volvo truck, carrying a huge bulldozer through some hilly terrain. Personally, I have a feeling that this happens in a career or something. Anyway, we just have to take our hats off to the skill of the artist. Download this art as background for your desktop:
The Volvo and the Dozer
.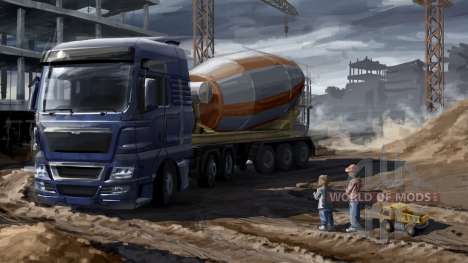 The following art even more fascinating than the previous one. Look at this excellent composition and the idea to portray children with their tiny toy truck next to a huge real one. It's hard to say what the author wanted to say. The art leave a slight feeling that you just saw something more than just a beautifully painted truck. Download the full version for your desktop:
Fathers and sons
.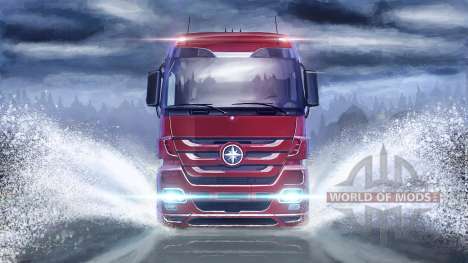 What could be nicer than driving at full speed through a highway right after a heavy rain, splashing the water flows far out left and right? For those of you who have not tried it, I recommend. Unforgettable feeling. In this art, the artist tried to depict it, and who'd say that it turned out badly? Excellent work with well-designed composition and tangible dynamic. Download a full version for your desktop:
On the water surface
.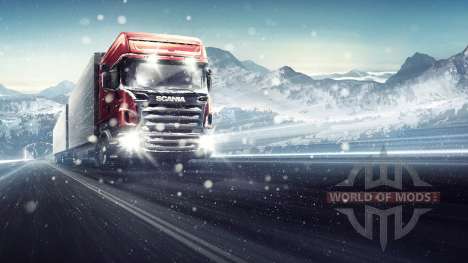 As you know, a skill of the artist lies in attention to detail. On this art you can see a true skill. Just look at these snowflakes, real feeling of movement and great composition! Bravo! Version for desktop
Through the Blizzard
.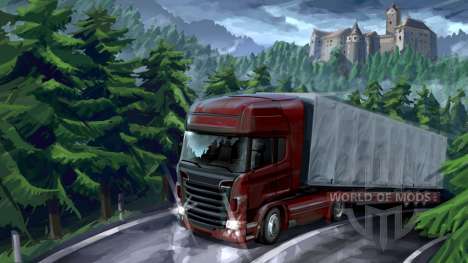 This art though not as good as the previous ones (in my personal opinion, of course), but nevertheless more than worthy of your attention. A beautiful castle in the middle of the forest and the truck, pulling his way along the wet asphalt, through evergreen spruce and spicy fresh air. The moment I saw this I want to run the game and take a little ride. Version for your desktop you can download here:
Forest adventure
.
If you like this kind of article, let us know in the comments below. And of course, stay tuned to our news and download
mods for Euro Truck Simulator 2
from our website!