SCS Software continue improving their game Euro Truck Simulator 2 finally released update 1.26. In this article, we will discuss innovations and some changes, that were added to the game.
Developers thank fans for amazing feedback on open beta Euro Truck Simulator 2 version 1.26. They got a lot of valuable information on new materials and tons of reports about little things, that they are missed and promised to fix it.
Now update 1.26 is available to all
Now game will be automatically update itself in Steam. Non-Steam version will get the update ready for download within a few days.
If you participated in open beta on Steam, please don't forget to switch back to the non-beta branch in properties Euro Truck Simulator 2.
Older Parts of France Reworked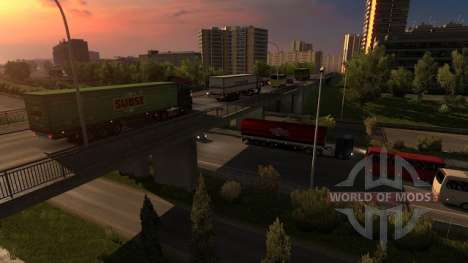 The main star of this update map is the city of Paris that has been completely rebuilt to make it much harder than before! SCS Software once again touched existing region of northern France in main game. It's not a total remake from scratch and developers hope that players will appreciate some significant changes in world, such as new models, new intersections and use of higher resolution textures in many places.
New Transmissions for all Trucks
It also adds new versions of transmissions for all trucks in game, so now you are offered a choice from the standard to Allison 4500. Players who care about wide range of modification transport, will appreciate this new feature.
Upgrade Shop & Truck Browser Search Tool
In the Shop added a new search bar and browser screen trucks, so now you can look at example of a specific paintjob or a particular engine upgrade. This new feature will come in handy if you have a lot of DLC or if you happen to have a truck with a large number of modifications.
Game Changes:
Adjustable interior FOV per truck
Added parking difficulty (preset option included)
Truck repair/refuel performed by hired driver costs money, included in logs
Added informational dialog showing when game detects upgrade or downgrade
Added pounds + short tonnes as weight unit option
Better trailer air pressure simulation
Low air warning should only be active with running engine
Revised rolling resistance computations
Hired driver use the very same formulas for eco skill as the player
Info for Modders:
Changed map parameters (climate_profile, map_data)
Moddable interior camera zoom parameters. (speed, factor)
1 degree rotation on Ctrl + R, 90 degree rotation on Home
Refresh sign template and its model from content browser
Merged editable sign and sign dialog
Added letter-spacing to sign editor
Store content browser navigation history
Support for day/nigh effect switching and child hookups for lod_model_hookup_u