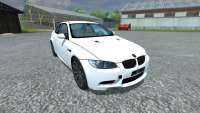 We all know that Farming Simulator 2013 is an excellent simulation of farm business, with a huge amount of agricultural technology: combines, tractors, mowers, etc. All this equipment serves daily your farm, to achieve the best yield.
However, sometimes I want to escape from work and just have fun, for example to explore their fields on steep sport BMW.
In any weather, anywhere, at any speed, with any power of passion.
On our website you will find a realistic model of the Munich BMW brand, excellent quality, designed mechanics, in the best traditions of the genre simulator. Our models will be a perfect complement to your fleet, just imagine BMW 535i next to a giant harvesters, tractors, dump trucks.
Registered players can free download BMW for Farming Simulator 2013 from the site server. Guests are welcome to download mods from file-sharing services provided on the links.