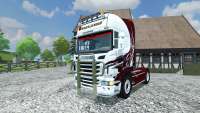 Specially for fans of technology under the trademark Scania, we have created this section with the best mod on the technique Scania for Farming Simulator 2013.
This beautiful brand started its long way with the development of cars and bicycles, and eventually became one of the leaders in the production of heavy trucks. Any technique Scania is characterized by its reliability, build quality and constantly updated technology. Currently, 70% of the shares owned by the Swedish company Volvo, which contributes to further increase the quality of the developed technology.
Every self-respecting farmer must have in its fleet of high-tech truck, so be sure to download the mod Scania for Farming Simulator 2013 with our server. Good game, friend.