Farming simulator Farming Simulator 2013 seriously involved thousands of players from kids to experienced gamers. The game still remains popular, despite the new versions released. The reason for this is the reluctance of players to leave undeveloped farm land with its own orders and funny situations. Besides the productive capabilities of the Xbox 360, PS3, PC, and OS X allow you to display realistic world of the farmer in their full glory.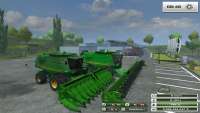 This section was created for all fans of the genre, eager to diversify the game. Here the virtual farmers can download mods for Farming Simulator 2013, which will significantly expand the capabilities of farmland. All mods have been extensively tested for compatibility with simulation and gaming platforms. A detailed description of each modification will allow you to quickly understand the process of installing the add-on options and their use.
Presents fashion will allow you to implement two main purposes - to change the basic configuration of the gameplay and/or the mechanics of the game. In particular, the mod "
More Realistic
" will significantly improve the performance of realistic physics gameplay, and setting the "
HUD Hider
" will open the possibility to change the underlying game interface, removing the excess labels that periodically preventing to focus on what is happening. Each mod is unique. The decision to use one or more modifications always remains with the user.