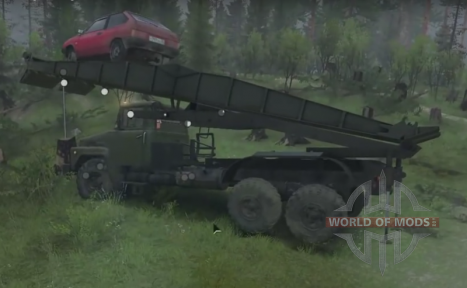 Is it possible to combine the physical exploration and the games? Of course yes. Reddit user under the nickname Vewy_nice posted a video, where he is in the game SpinTires constructed a catapult that launches into the sky domestic Lada car with a truck KRAZ 260 and a mobile bridge. Not immediately present themselves such. In the future Arsenal will be expanded. But only in the first video he was able to throw the car so that he landed on the wheels. The truth was not without a roll.
But the user is not stopped and made a few variations to his catapult.
In the second version, he added two AP-4045 loader and the mobile bridge for changing the angle. It goes truck on a bridge and sends car into the sky. And in the third it by changing the method of preparing the "shell", turned the car around and also launched.
In any case, the result is the same. The car flys away and gets destroyed, as well as the construction itself after use. At the end of your videos on the place of departure after the flight the player returns to his beloved Land Rover.
The idea is not bad and got impressive. Given the fact that the user has carried out his experiments using real physics. And you spent something like that in the Spin Tires? If you have something to share, be sure to write about it. At our site you can also
download cars for SpinTires
. We regularly update our database so that you will always find something interesting for themselves.