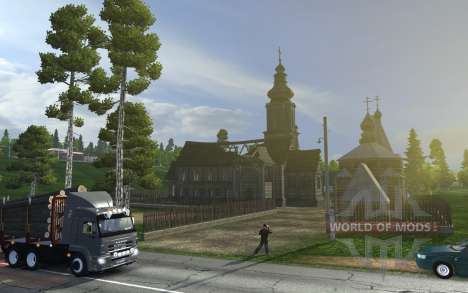 The endless Russian expanses are preparing to turn the head of ETS 2 players
Although additional content, including the Iberian Peninsula, has not yet been released, SCS Software is preparing players for new road routes - this time they will go to Russia.
Players will very soon be allowed to take a flight in a harnessed eight-wheeled car, pave the way along the roads of Mother Russia - the upcoming Hearth of Russia DLC will open the coveted luxury for CIS gamers.
How can Hearth Of Russia please?
Part of Russia has already been included in Euro Trucks 2, and St. Petersburg has appeared in the Beyond The Baltic Sea DLC. But Heart of Russia will open up a country to explore, with routes that take you through Moscow, the Volga and Oka rivers, and countless old villages and forests.
Now, given that Russia itself easily surpasses all of Europe in scale, one should not expect that it will be necessary to transport goods across the entire country. The developers said that they will not try to cover the "European" part of the country in one update completely, instead SCS will stop the map on the Volga River. However, expect Russia to be the biggest land addition to date - even compared to the Iberia DLC expansion.
When will it be possible to test Russian roads?
The upcoming release of the Iberia add-on, no matter how hard the developers try, creates confusion. It is known that the studio is putting emphasis on the "Heart of Russia", which is now worth waiting for a short period of time after the release of Iberia. From their side, it seems strange that information appears about the new planned content when the previous project remains at the development stage and will be released only in April 2021. The company is not focusing on casual: an update can become a trump card that can attract new players and return old ones that have lost interest.