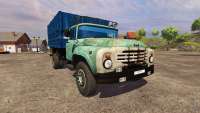 Another heavyweight in the agricultural industry, the winner of the Soviet and international exhibitions, developed on the plant. Stalin, a great assistant on any farm - ZIL 130 for Farming Simulator 2013.
Special advantages ZIL 130 his incredible power, capacity more than GAS, easy to operate and low maintenance. Among the shortcomings can be identified only a great appetite and minimal comfort, but this is minor.
Registered players can free download ZIL 130 for Farming Simulator 2013 from the site server. Guests are welcome to download mods from file-sharing services provided on the links. Farewell, friend.