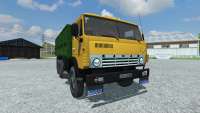 Present you with a selection of models is indispensable helper on the farm KAMAZ 55102, referred to popularly as "Farmer" for Farming Simulator 2013.
KamAZ 55102 - 7 ton dump function tripartite unloading wagons intended for the carriage of bulk cargoes agricultural purposes, mainly grain. Excellent power 240 HP, fairly light weight in 15t allows a very good feel on the road. Body KAMAZ 55102 has the ability to discharge to any of the two sides, so very convenient to carry fertilizers.
Of course KAMAZ 55102 created for agriculture, he will become a reliable companion for any farmer. To set this truck for Farming Simulator 2013 on our website. We have checked all the files on bugs and simplified installation to a minimum.