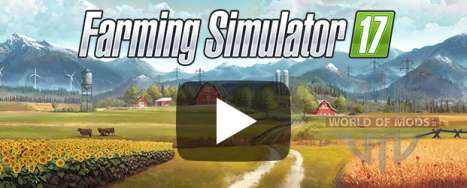 First two Farming Simulator 2017 trailers! In this article you will learn more about what awaits us in highly anticipated FS 17!
In GIANTS Software's new project we'll have to assume the role of a modern day farmer who owns hundreds of acres of good fertile land. You will have access to the most recent agricultural machinery and a variety of plants to yield and animals to take care of in a big open world.
Not so long ago the debut trailer for the game was released and whetted curiosity of the fans even more:
Here you can see some new brands that will be represented in the game. Such as Challenger, Fendt, Massey Ferguson, and Valtra. The game will offer about 70 brands and over 200 agricultural vehicles and machinery, authentically recreated on the Farming Simulator 2017 new game engine.
A bit after the very first gameplay trailer of the game, called
From Seeds to Harvest
, was released. This trailer is the first of a series of gameplay videos depicting new features in Farming Simulator 2017. In this video you can see the basics of the game, new graphics, new vehicles and new plants available for cultivation:
A unique and comprehensive gameplay of the Farming Simulator games have won the hearts of many fans around the world. This game is both challenging simulator, and very accessible sandbox game with huge maps, lots of vehicles and machinery with which you can do whatever you want. In the Farming Simulator games there are all the major brands, producing agricultural machinery and Farming Simulator 2017 boasts the largest in the series' history selection of vehicles (as mentioned above - more than 200 units).
But that's not all. There are endless possibilities can be opened up to player by custom modifications, which, again, for the first time in the series' history, will be available not only on PC but also on consoles! You can even ask your friends to enter the game and help you with your virtual farm online. On the console version of the game up to 6 players can play in the same session and up to 16 on PC!
By the way, for all those lucky ones whose holiday plans include a visit to the famous Gamescom, which in 2016 will be held in Cologne, Germany from 17 to 21 August, it is highly advisable to visit the GIANTS Software stand, where anyone can try out Farming Simulator 2017.