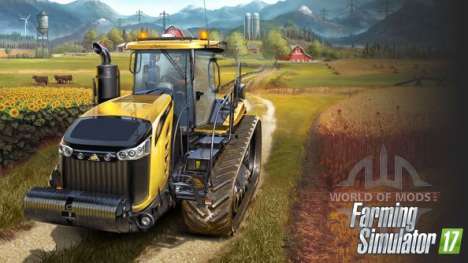 Farming Simulator 2017 - "Simulator of Farmer" developed by Giants Software, which will play for the modern farmer and grow your own farm, engaged in cattle breeding and grain growing, harvesting and sales.
In the course of your career under management fall over a hundred agricultural machines, believable repeating the most famous brand (Challenger, Fendt, Valtra, Massey Ferguson and so on. D.). A deep and addictive gameplay, a large open world and a huge
a variety of techniques.
Compared to the predecessor svim were changed almost every aspect of the game. From graphics, economics, physics, sound, ending nuances, such as the manual ignition. Pets finally began to be in need of water, and cleaning, to expand the fleet and even not worth mentioning, it has increased significantly. It appeared customization - osnovonom choice of colors and wheels, the engine power can be supplied mount for a forklift truck, the different types of wheels. It is evident that the developers have listened to the players and implemented in the new game some pretty popular fashion:
- New crops: sunflower, soybean, cultivated radish and poplar.
- New animals - pigs
- Dual wheels
- Technique: self-propelled sprayer, trailers for the transport of animals, machinery for harvesting, the Fendt tractors, Challenger, MF, two new tractor, including and Peterbilt 389!
- Improved lighting.
- Manual Ignition (switched off in the settings)
- Buy additional tower for elevators
- Equipment rental
- The ability to pick up objects
- Ability to pour cargo anywhere, and then pick up truck
- Conveyor belts!
- Changed mission mechanism. Now there is the usual tasks for delivery and so on. All tasks are reduced to handling others' fields.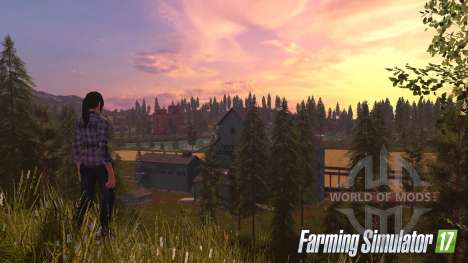 Also, available in almost all the equipment that was in the DLC for FS15 - Russian technique silosnik NH, Holmer, JCB.
Now, the technique can be taken out, and the price depends on the class and state of the art. In Farming Simulator 2017 there were representatives of the female sex. You can play for a girl, you can hire women workers. The game is built mods manager. Right from the game can be viewed and set the fashion of the Giants themselves and users.
But the release was not without bugs. At the moment, can not be fully trained, but precisely because of the task bug about pigs in the Russian version. They just do not buy (in the company, they also do not buy). Bugs with trees physics at oblique saw cut, a tree trunk in the fall just falls through the floor. This, of course, will be fixed in the near future patch.
Our site has started to add
mods for Farming Simulator 17
! Technique, graphics and more. To download a modification, you can visit the appropriate size.
Farming Simulator 17 receives a very positive evaluation of players. Many celebrate the diversity that was possible only with the help of mods in FS2015 and good optimization.