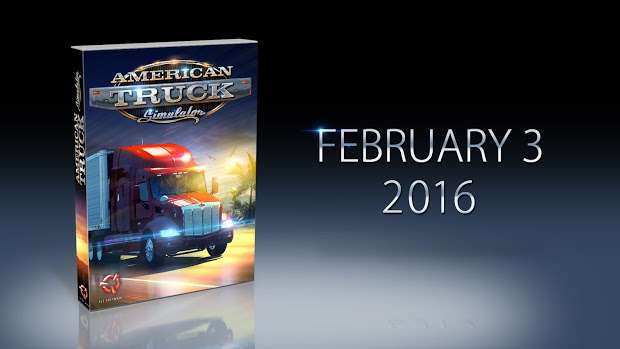 Finally the American Truck Simulator's release date became known! This is perhaps the most anticipated project in the genre of simulation of freight transportation, nothing like a big recycling of Euro Truck Simulator 2, which all fans of the genre looking forward to since of it's first announcement in September 2013, will be released on 3 February 2016 (by the way games are developed in parallel). That is, we have to wait just a little over a month! Now, knowing when will American Truck Simulator, we are interested in the details. And the details as follows:
The developers report that American Truck Simulator 2015 (alpha test) will be very different from future American Truck Simulator 2016. SCS Software have big plans for this game. In the initial version, which will be available directly on 3 February future year, it will be possible to ride only in the state of California and will be available only a few trucks. However, according to the developers it is only a "first step". In their Grand plan to implement throughout North America as part of American Truck Simulator.
We are waiting for vast spaces, deserts, forests, rivers, Great Lakes, Rocky mountains, Grand canyon and, of course, a great many of the most powerful American trucks that can easily give odds to any European truck. Let's hope that this release date ATS - final and there are no unexpected changes and transfers, the release date will be. Also, good luck to the developers with obtaining licenses from truck manufacturers to use their cars in the game. Those of you who know how this process took place in Euro Truck Simulator 2 will surely understand what I mean. Recall that in addition to new locations, companies, missions and trucks at the American Truck Simulator will be much improved graphics, so that even lovers of modern graphics technology will not flow out of the eye when looking at game textures and drawing backgrounds.
If you want to see
system requirements of American Truck Simulator
- you can find them on our website.