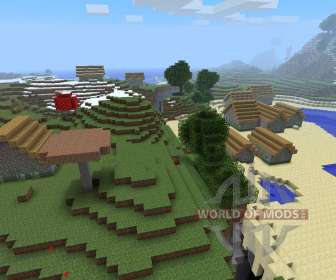 Minecraft - game in the genre of "sandbox", created by Marcus Persson (Notch) and released in 2011. Based Infiniminer, Marcus begins in 2009, a new project Minecraft. Having passed the way of development in 2 years, 18 November 2011 was released release version.
The game Minecraft was offered to buy for 19,95$. But such cost is not scared of players, so as a funny kind of money could become a Creator of a new world with its own laws and rules.
The game was initially two modes: Classic and Survival. Classic - includes construction of the world of cubic blocks. In this mode, the player is immortal and has all kinds of blocks. In survival mode Minecraft is becoming aggressive place where the player will have to fight for their virtual life hunger and monsters.
On our site you can download Minecraft. In our archives are as net official customers and assemblies with different modes.
Popular categories section:
Clients
,
Packs
,
Mods for Minecraft
,
Ready card
,
Textures-packs
and
skins